Liberty Food Centre, Nelson BC, Circa 1954
Before Liberty Foods became established in Fruitvale BC, its predecessor, Liberty Food Centre was originally founded in 1939 by Tom Wong and became the first supermarket in Nelson, BC. Along with shareholders, George Kaiway and J.D. Hingwing, president and secretary, Liberty Food Centre boasted a number of modern amenities, including a refrigerated self-serve produce section.
After 3 years of working at the Liberty Food Centre in Nelson, Dick and Susan Dar set out to establish Liberty Foods in Fruitvale, BC. Dick purchased a small grocery store on the outskirts of town and together with Susan's brother Dennis, they took that tiny little store, built it up and relocated it to where it is today in the heart of Fruitvale on 1950 Main Street.
Susan and Derrick Dar remain the faces of Liberty Foods and still continue to show the same passion towards the business as when Liberty Foods first opened in 1957. They have instilled a set of core values that effect the way the store operates on a regular basis.

Dick Dar Circa 1960
Values like community and service.
Fruitvale is our home and we give back to it as much as we can, supporting everything from food drives to youth sporting tournaments.
We also hire from the community. We like it when our customers can be on a first-name basis with our staff, when it's more than customer service: its two neighbours talking.
And whenever possible, we stock our shelves with produce from local farmers and products locally produced in British Columbia and the Kootenays.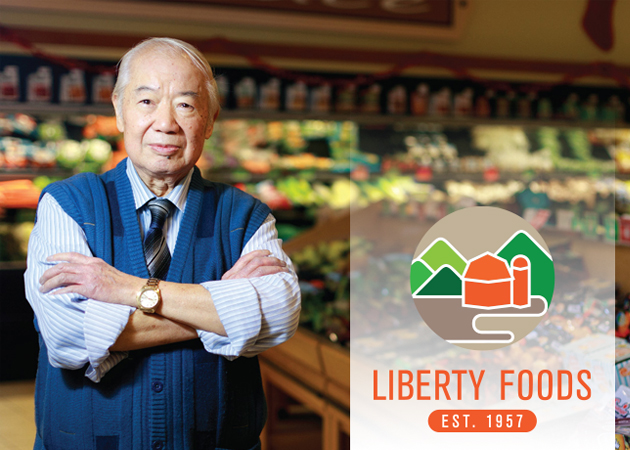 Values like family.
Liberty Foods has been, and always will be, a true family affair. Generations of families have shopped and worked here over the years and we're proud to be a part of their lives. Every time an old staff member comes in to shop it's like a little family reunion.
Liberty Foods has grown and changed over the years just like Fruitvale has. But no matter what changes, some things will stay the same and it is my intention to maintain Liberty Foods as a central part of the Beaver Valley community for the many years to come.
Sincerely,
Derrick Dar
Managing Director